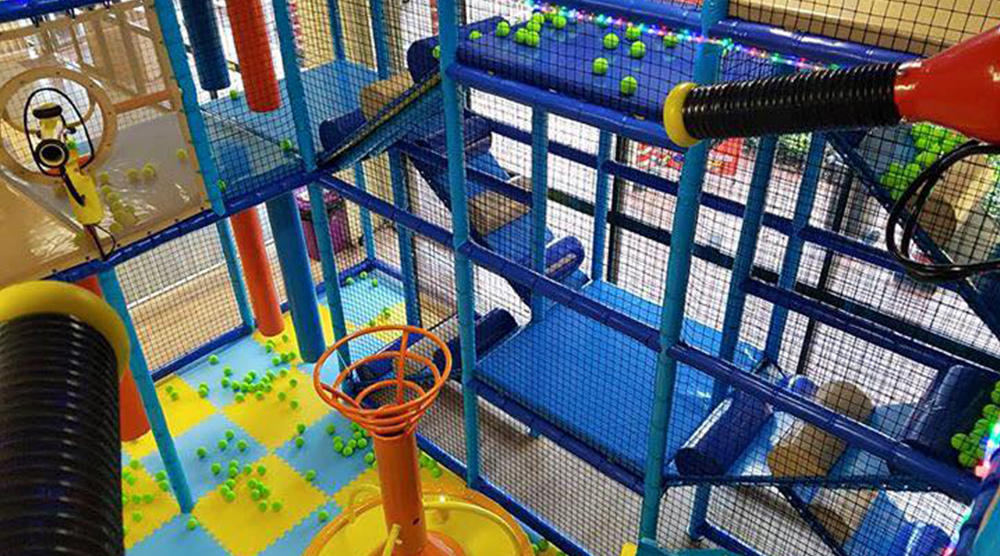 Where kids can be kids everyday
Lollipop's Playland & Cafe Penrith is a family-owned and operated children's play centre. Newly located at Panthers Penrith you will find us upstairs next door to Chopstix or Fork restaurant.
We aim to give you the best birthday party experience and more! With 3 party rooms, they are plenty of choices to make your next party a breeze. Take your party experience to the next level and hire the whole venue for the evening, we will cater the event for your every need.
Children will have a great time sliding, spinning, dodging and crawling through the various playframes.
"... just want to give a shout out to Lollipops Playland in Panthers Leagues. We booked our kids in last night for the drop and dine option. For $25 per child (if you're a member, $30 if not), they will mind them from 6-10 pm (Fridays & Saturdays only), with dinner provided for them at 7 pm. I didn't really know what to expect, and was a bit nervous! But the 2 girls on staff were amazing, our children (8-year-old twins) loved it and had an absolute ball. They were the only children booked in last night, I would encourage you to have a look into it if you want a few hours to just have dinner to yourselves. Our kids left saying it was the best day of their lives." - Alison Tracey (Penrith Area Mums)
OPENING HOURS
Holiday Hours
Christmas Eve 24th December – Closed
Christmas Day 25th December – Closed
Boxing Day 26th December – Closed
Tuesday 27th December – Closed
New Year's Eve 31st December – 9.30pm – 3.30pm
New Year's Day's 1st January – Closed
Monday 2nd January – Closed
Australia Day 26th January – Closed
MONDAY: 9:30am – 3:30pm
TUESDAY: 9:30am – 3:30pm
WEDNESDAY: 9:30am – 3:30pm
THURSDAY: 9:30am – 3:30pm
FRIDAY: 9:30am – 5pm
SATURDAY: 9:30am – 6pm 
SUNDAY: 9:30am – 5pm
Drop & Dine At Panthers
Drop & Dine
Drop & Dine allows parents to enjoy the other facilities of the Club while taking comfort in the fact that their children are happy, safe and nearby.
Children will be provided with a meal and can play on the equipment whilst being fully supervised in a safe environment. No adults are allowed on site while drop and dine is running. Lollipops Playland will provide fun activities and games that will be scheduled to entertain the kids.
Parents must stay on the premises of the club at all times and always be contactable.
Children are to bring a water bottle with their name clearly marked on it.
Please note: Eligible children must be at least three years of age and toilet trained, easily identifying when they need to use the bathroom and able to use bathroom facilities unassisted.
Meals are served at 7pm so we require all children having meals to be at Lollipop's by 6.45pm.
NO ADULTS ARE ALLOWED IN THE PLAYLAND WHILE DROP AND DINE IN RUNNING
Drop & Dine is available from 6pm – 10pm on selected dates.
Call Lollipops for more information on 02 4721 8555.
Back to Play & Stay